Products
M2-32500-53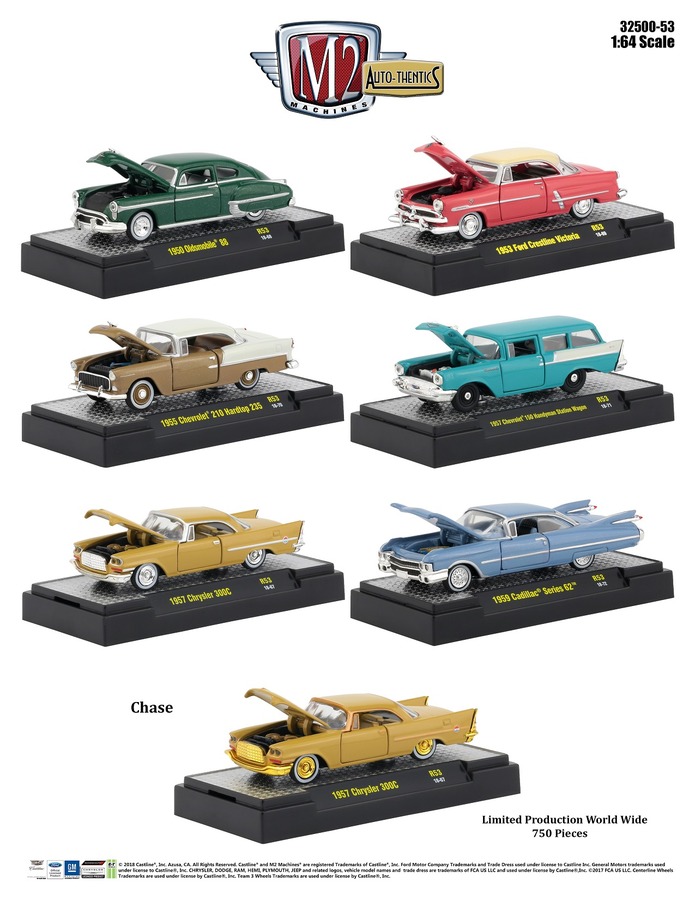 M2-32500-53
M2 Machines Auto-Thentics release 53 (32500-53) will be heading to our hobby dealers later this month. The collection offers a step back in time for M2 fans with a series of 1950's castings that take automotive enthusiasts back to the days when Jukeboxes were playing Elvis Presley at just about every diner in town and girls were dancing jitterbug style in poodle skirts and Bobby socks. The series includes 6 castings with a special reappearance of the 1959 Cadillac Series 62 and be sure to keep an eye out for the 1957 Chrysler 300 chase piece of the set.
 "AUTO-THENTICS RELEASE 53"
1950 Oldsmobile 88 - *The Body is PMS C Metallic for the Ivy Green Metallic* The Interior is Gray                                         
1953 Ford Crestline Victoria *The Body is Flamingo Red *The Top is Sungate Ivory *The Interior is Brown *The Interior inserts are Light Brown *The Engine is Red   
1955 Chevrolet 210 Hard Top 235  *The Body is Navajo Tan w/India Ivory Top & Rear                                                                                                                                                                                     
1957 Chevrolet 150 Handyman Station Wagon   *Tropical Turquoise w/India Ivory Back Section  
1957 Chrysler 300C  *The Body is Champagne Gold  *Interior is Tan          
1959 Cadillac Series 62  *The Body is Argyle Blue Metallic  *The Interior is Argyle Blue Metallic  *The Seat Inserts are Black
CHASE CAR:  1957 Chrysler 300C  *The Body is Champagne Gold
Since this car is a Chase Car All the Trim, Bumpers, & Rims are now Gold Chrome
"LIMITED PRODUCTION WORLD WIDE" - 750 pieces
                         GOOD LUCK!!