Products
M2-32600-43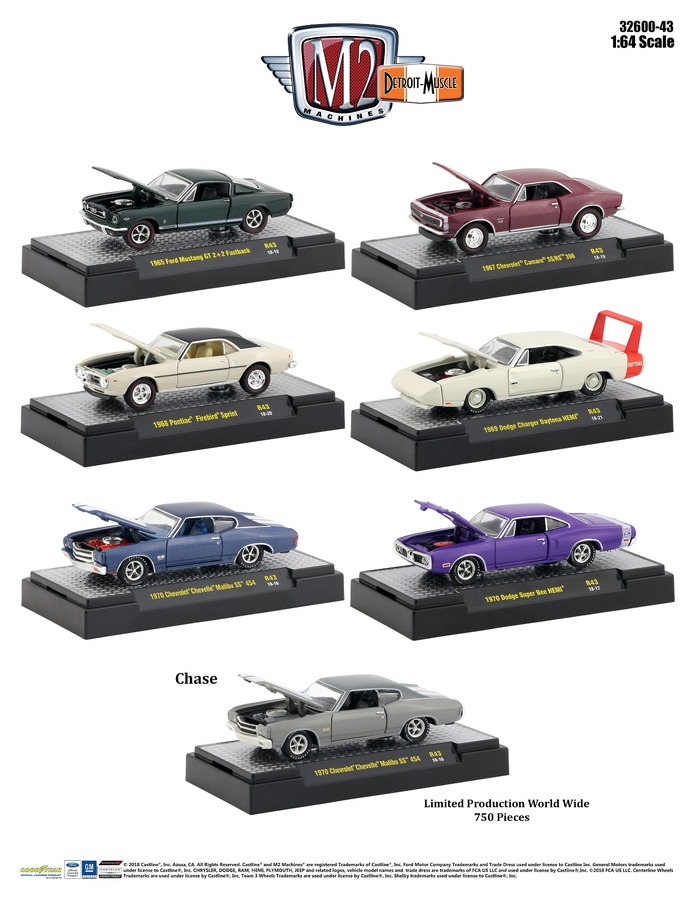 M2-32600-43
Included in Detroit-Muscle Release 43 are 6 different castings:
1)  1969 Dodge Charger Daytona HEMI  White-Cool Gray with Rred Stripe
2)  1970 Chevrolet Chevelle Malibu SS 454 Fathom Blue Metallic & Blue Vinyl Top w/White Stripes
3)  1970 Dodge Super Bee HEMI  In-Violet - Plum Crazy- with White Stripe
4)  1965 Ford Mustang GT 2+2 Fastback  Ivy Green Metallic w/White Stripes
5)  1967 Chevrolet Camaro SS/RS 396  Madeira Maroon Metallic w/Gloss White Stripes   
6)  1968 Pontiac Firebird Sprint Primavera Beige - Warm Gray
Chase Car: 1970 Chevrolet Chevelle SS 454
Dark Gray & Dark Gray Vinyl Top w/Light Gray Stripes Black Stripes
Since this is a NEW B&W Chase Car, There's no Colors or Chrome!
All the colors are Grays. The Chrome Trim, Bumpers & Small Caps are now Painted on Molded in PMS Cool Gray 2C.
 "LIMITED PRODUCTION WORLD WIDE" - 750 Pieces
                      "Good Luck"