Products
M2-40300-MOON02B 1969 Camero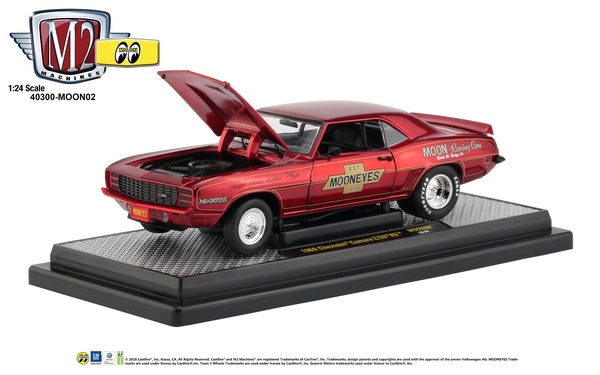 M2-40300-MOON02B 1969 Camero
THIS NEW 1:24 SCALE MOON02 – 1969 CHEVROLET CAMARO Z-28 RS LOOKS AWESOME.
WHEN YOU RECEIVE THIS NEW RELEASE YOU WILL AGREE WITH ME 100% THAT IS ONE OF THE BEST 1:24 scale.
In the words of John "Hannibal" Smith "I love it when a plan comes together". The 1969 Chevrolet Camaro that you are about to feast your eyes on, is a real piece of full-scale Mooneyes history. 
Skinned in Candy Red paint with Gold stripes, this quarter mile terror rolls on large slicks out back and is outfitted with a black racing interior that features bucket seats and roll bar. 
Keep an eye out for the chase version that is highlighted by its yellow tinted glass and blacked out rims.