Products
M2-82161-18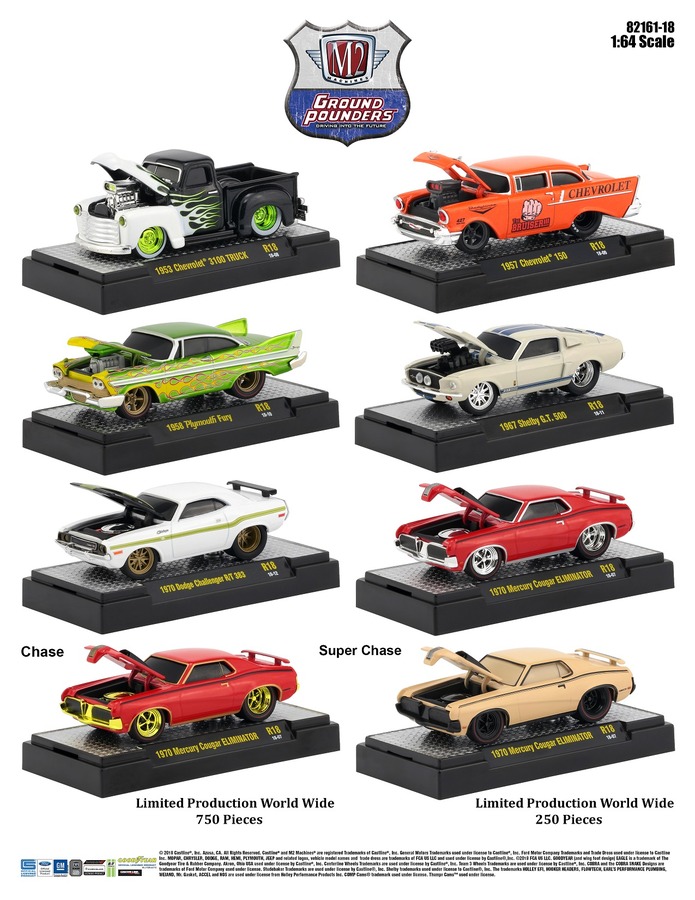 M2-82161-18
Ground Pounders
Anyone else hear the ground rumbling around them?  M2 Machines Ground Pounders release 18 (82161-18) is about to start shipping to the websites of our hobby dealers nationwide. 
The all new collection delivers the slightly cartoonish pro-street feel to some of America's more desirable vehicles to ever come out of Detroit.  From their oversized tucked wheels out back to some flashy and classy paint schemes the release offers some mild to wild rides that will surly make anyone envious. Be sure to also keep an eye out for both chase pieces making this collection an 8-piece complete set.
 Ground Pounders Release 18
Included in the Ground Pounders 1:64 scale Release 18 are the following 6 castings:
1953 Chevrolet 3100 Truck
1957 Chevrolet 150 – THE BRUISER!!!
1958 Plymouth Fury 
1967 Shelby G.T. 500             
1970 Dodge Challenger R/T 383  
1970 Mercury Cougar ELIMINATOR   
1) CHASE CAR:  1970 Mercury Cougar ELIMINATOR   -  *The Body is Bright Red -*The Stripes and Hood Scoop is Semi-Gloss Black  **Since this is a Chase Car all the Trim, Bumpers & Wheels are now Gold      -    LIMITED PRODUCTION WORLDWIDE 750 Pieces
 2)SUPER CHASE CAR - 1970 Mercury Cougar ELIMINATOR  - *The Body is Semi-Gloss PMS 726C   -   *The Stripes & Hood Scoop is Semi-Gloss Black.    The GP Super Chase is suppose to mimick the look and the feel of the large Clay Models. LIMITED PRODUCTION WORLDWIDE 250 Pieces -  (Randomly Inserted)
1) Specific Information:  Acrylic Case PACKAGING. Description:  Ground Pounders 1:64 scale Release 18. Item Number:  82161-18
Master Case Pack:  48/6
Available:  December 2018