Products
Street Freaks 1A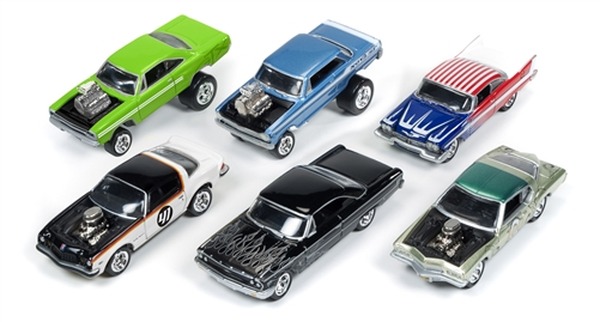 Street Freaks 1A
Outer of 6
Johnny Lightning® is now back in the hands of the Playing Mantis team of developers and designers that resurrected the Topper Toys brand back in 1994! We are excited to re-introduce these iconic die cast vehicles!

Loud graphics, hot customs, and sizzling flames have returned to the Johnny Lightning® line-up with the Street Freaks! Whether you're into high-speed and blown engines, the secret underworld of car culture, or insane flamed paint jobs, these freaks will fuel your need for horsepower.

Features:
6 Car Set Factory Sealed Case Set A Includes:
1963 Chevy Nova (Light Blue w/ White Graphics)
1970 Plymouth GTX (Bright Green w/ White Graphics)
1976 Chevy Camaro (Gloss White w/ Black Graphics)
1972 Buick Riviera (Cream w/ Graphics)
1958 Plymouth Belvedere (Bright Red w/ Blue & White Graphics)
1963 Ford Galaxie (Gloss Black w/ Flat Black Flames)
As a bonus for purchasing a complete 6-car set from Auto World Store you will receive 1 free Johnny Lightning 1:64 scale diecast car from the Playing Mantis Vault! This will be a random car picked from the production years of 1994 - 2004! You will also receive a Blister Card and an old Newsflash Flyer!